Aloha, welcome to the EM Bokashi on-line sales! The cost is $20 per four (4) pound standup bag, or $5.50 per 14 ounce pouch, and includes free shipping to the U.S. See Paypal "Add to Cart" links below. Mahalo!
For our foreign or store buyers please make inquiry with us on shipping and terms via info@iliahi.com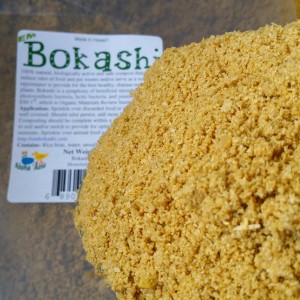 We manufacture bokashi made with EM (effective microorganisms), and related EM products, including EM ceramics. The type of EM we use for all our products is known as EM·1®. We are based in Kahalu'u, O'ahu, Hawaii and are a manufacturing and educational division of 'Iliahi Enterprises LLC and Kahalu'u Country Store, which also sells our products.
This website is dedicated to the use of EM, Bokashi, and nature farming. You will see the application of these technologies with much effort at the 3 R's of reduce, reuse and recycle at the Bokashi Center. Our business principles are cooperation, creativity, and co-prosperity; providing you more use value, than taking cash value.
---
Four (4) pounds vacuum-sealed standup, zippered bag of EM Bokashi, $20 via Paypal. Economic size with built-in zipper for routine use. Fast free shipping via U.S.P.S Priority Mail.
---
14 ounce vacuum-sealed pouch of EM Bokashi, $5.50 via Paypal. Convenient pocket-size for easy-carry transport or incidental use. Fast free shipping via U.S.P.S. First-Class Mail.